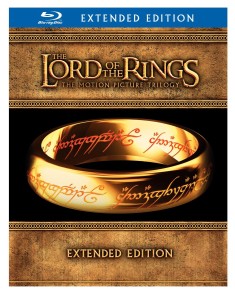 Amazon has started taking pre-orders for The Lord of the Rings (Extended) on Blu-Ray! I didn't bother with the theatrical editions, partly because we didn't have an HD-TV at the time, and partly because we both prefer the extended editions (even if they do take 11 hours to get through the whole trilogy).
I jumped at this one, though. Having recently watched Fellowship of the Ring on a big-screen TV on DVD, I could see places where the higher definition would really help. Battle sequences especially.
It's worth considering that I still haven't pre-ordered the Star Wars saga on Blu-Ray.