Busy day. I had a lot of stuff that I wanted to get to but had to make choices. Shoulders are starting to acclimate, though there's also the fact that I've taken a lot of stuff out of my backpack as I've gotten it signed. I have no idea what I'm going to do to carry around Comic Book Tattoo.
Speaking of which, yes, the books finally came in! I picked mine up late morning, and decided to shell out the extra $20 for the hardcover because it's just so big. It's at least an inch and a half thick, and it's 12 inches square — the size of a vinyl record album case.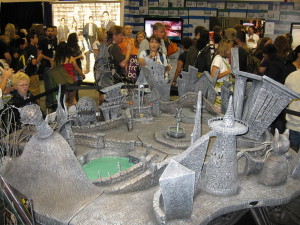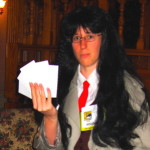 Katie dressed up as Yomiko Readman, and we started the day at Richard Walker's Pancake House. They were very busy, but had a system in place that kept people moving — and they were also very good. We got to the convention center around 10:00, explored the floor a bit together, then split up. When I bought a comic from Sergio Aragonés that I hadn't seen before, and asked him to sign it, he asked her what character her costume was from. He clearly didn't recognize the show, but it was nice of him to ask. The first hour or so that we were there, she mostly got people asking, "What's that from?" but then people who knew the show started asking for her picture.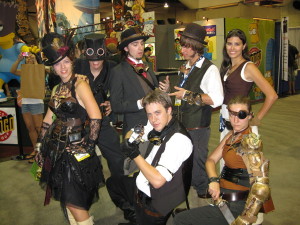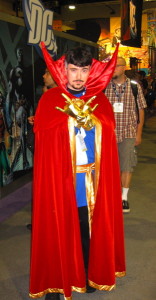 I managed to round out the complete set of signatures on the Girl Genius trades. I also picked up a print of the Flash: Rebirth cover at Moose Baumann's table, and commissioned an Impulse sketch from Todd Nauck. When I got there, he was talking with someone, and I waited while they chatted for several minutes. When he left, it turned out that he was Carlo Barberi, who drew Impulse during most of Todd Dezago's run. I couldn't stick around while he drew the sketch, since I was on my way to a panel, plus he was finishing up a sketch for someone else, so I'll be heading back sometime tomorrow to pick it up.
I went to a couple of panels by science fiction authors, both one-person shows: Connie Willis and Robert Sawyer. Connie Willis was very funny as she talked about writing in general, about her upcoming novels, and answered questions from the audience. Robert Sawyer mostly talked about his experience in the publishing industry, and managed to make it interesting. I followed it up with a panel on lost civilizations and secret societies that should have been fascinating, but was dull enough that I left only 10 minutes in and decided to hit the art show instead. Katie attended "Humor in Science Fiction" and the Bones panel, and I finished the programming day up with Final Crisis Management.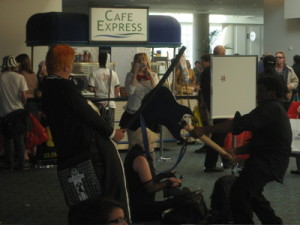 Today was the day for running into people. On my way from Image (with the Tori book) to Studio Foglio, I ran into a group from Comic Quest (the local comic store I go to on Wednesdays). I ran into my mom at the Connie Willis panel. We met up with our friend Sean at lunch, and I ran into our friend Wayne after Final Crisis…because Katie had spotted a Minbari, and I went over to take his picture. Ten feet away, there was Wayne.
Lunch was at an Irish pub called The Field. I missed Sean's phone call, so by the time we caught up he'd already found a place and ordered lunch, but they were nice enough to move all of us from the tiny little pub table he was sitting at to a larger table. Up to this point, we'd been batting 1.000 on food. Dinner was another story. We hadn't gotten around to making reservations, and after a couple of places with long waits, we just went to the Horton Plaza food court.