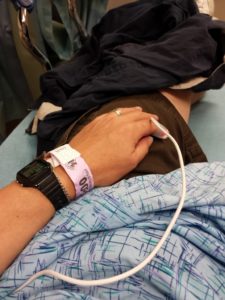 I've been attending San Diego Comic-Con for more than 20 years, but this was the first time I left the con in an ambulance.
I'm OK now. Though I might not be when I see the bill.
It started at lunchtime. We went to New Break, an independent coffee shop near Ralphs, which we'd been to before. They were offering samples of a blended peanut butter banana coffee drink, and while I really wanted to try their blended mint mocha, it was safer to skip something made on the same equipment.
What I decided on was a Mexican Mocha. Generally, these add cinnamon, maybe nutmeg or chili powder. I've had drinks with that and similar names, and Mexican hot chocolate, plenty of times. I didn't ask what was in it, but I had just told them I was allergic to peanuts when I decided to skip the blended drink.
I considered getting it iced, but there was some confusion as to what was included in the lunch deal, so I got it hot instead. That turned out to be a wise decision, since I probably would have started out chugging a few ounces of a cold drink.
Two sips in, the back of my throat and my lips started tingling — a bad sign. I stopped, flagged over one of the baristas, and asked whether there were any nuts in the drink. She didn't think so, but said she'd check.
I pulled out my emergency kit, took my Benadryl and Pepcid, and set my Epi-Pen on the table in case it progressed. I probably should have just taken it right then, but who wants to spend the afternoon in the emergency room instead of Comic-Con?
Meanwhile, the coffee shop staff had been unable to find ingredients for the mix, and had to call the owner to confirm that yes, there were peanuts in it.
Great.
Over the next hour, it felt like the reaction was under control, so I figured we could return to the convention center. Unfortunately, anaphylaxis can take several hours to run its course, and medication can wear off before it does. Continue reading →