StreetComplete
★★★★★
StreetComplete is a great, easy to use mapping tool for contributing to OpenStreetMap on the go, as a beginner, or both. It finds nearby items on the map that are missing information - street names, bike lane status, parking access, building levels or business hours - and turns them into "quests," asking you to fill in what's missing around you. Preferably by actually walking over to it and looking. And it runs really smoothly. The only times I run into performance issues with it is when I zoom too far out and it tries to find quests for an entire city.
It gamifies the process of building a searchable map that's available to anyone and isn't dependent on Google.
It's not particularly powerful, though - if you want to add new paths or structures, or add information that isn't in one of its quests, you're better off using a different app or making a note to come back to it later. You can leave notes for other mappers (or future you) to take care of those additions. There also isn't a good way to double-check information that's already there, especially if the background images haven't caught up with recent changes.
But what it does, it does very well, and I use it for most of my on-the-ground mapping.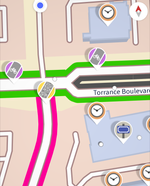 Update (Sep 2022): I recently discovered the layers feature, which highlights path segments to show how (and if!) sidewalks or lighting are currently mapped on them. It's been extremely helpful in adding and correcting sidewalks, both while walking with the phone and while armchair mapping on another device.
StreetComplete is available for Android phones and other devices on the Google Play Store and F-Droid.
Compared to Vespucci
StreetComplete and Vespucci are complementary. StreetComplete is good for casual mapping (ex: filling in street info), while Vespucci is good for more significant changes (ex: adding a new street). I use both regularly.

Online at StreetComplete.