A Pocket Guide to Pigeon Watching
Rosemary Mosco
★★★★★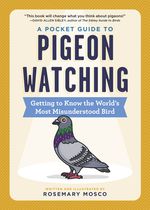 A fast, funny, informative read about, well, pigeons (and to some extent other birds). Readers of the author's webcomic about nature, Bird and Moon, will recognize the quirky humor and the drawing style of the illustrations.

You might think pigeons are boring because they're so common, but they can be as interesting as any other bird once you start looking. And because they're found everywhere humans live (there's a reason for that), anyone can go out and start looking in the real world for the patterns and behaviors described.

The irreverent but enthusiastic style draws you in as the book runs through the long history of pigeons and humans. We've bred them for messaging, food, chemistry and as pets since ancient times, and the common pigeons seen today are descended from domestic pigeons that have escaped over the years. It continues through an overview of pigeon anatomy, what types of coloration are most and least common, the extremes of modern pigeon breeds (there are still pigeon races and pigeon shows!), and of course pigeon behaviors.

If you buy an e-book edition like I did, it's worth pulling it up on a color screen when you get to the chapters on appearance.

You can find a print copy through Bookshop.org.

Online at A Pocket Guide to Pigeon Watching. Available from Bookshop.org.