George F Canyon
Stein-Hale Nature Trail (Palos Verdes Peninsula, CA)
★★★★★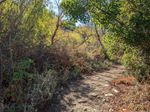 A short, quiet hike uphill along a seasonal streambed. Late winter/early spring is the time to go if you want to see water, unless it's been a dry winter. Mostly mild, some parts well shaded, others with occasional shade. The last part gets a lot steeper, but there's a shaded bench at the top of the (official) trail where, on a clear day, you can see across the Los Angeles basin to the San Gabriel Mountains beyond it. The trail continues on, but leaves the nature preserve and crosses into private property.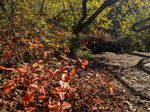 Birds, butterflies, rabbits depending on season. Red-tailed hawks like to circle above an area of the canyon near the trail summit.

Water filling station at the gravel parking lot along Palos Verdes Drive East. Additional parking at the nature center at the corner of PVD East and PVD North.

Important: THERE IS SO. MUCH. POISON OAK. There's a whole lot of it growing along the stream. (It's part of the riparian ecosystem.) When in doubt, remember: "Leaves of three, let it be."

Some maps and signs label it as "Georgeff Canyon" instead. Apparently no one knows where the name came from or who George F. was, but the name's on a 1924 map, so it goes back at least that far.

These are some photos I've taken along the trail. I also have a photo gallery on Flickr.

Online at George F Canyon. View on OpenStreetMap.