While Christmas shopping, I kept seeing things that made me wish I had brought my camera. The ridiculously giant Christmas tree at Fashion Island was not one of them; all I needed was a picture demonstrating its height.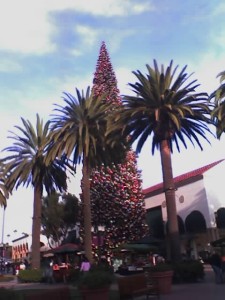 A toy store yielded a number of amusements (appropriately enough), in the form of a series of unconventional action figures—Jane Austen, Leonardo DaVinci, Mozart, Charles Dickens… and of course talking Jesus and Moses figures. And then there's the Avenging Unicorn!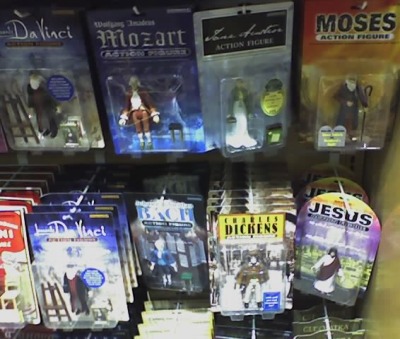 The same store held the Engrish-worthy "Frog Style" label on a plush frog. "One style & infinite variation. Can a frog save the world? Maybe…" But from what?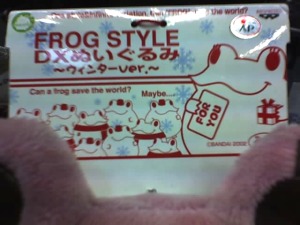 One gadget we saw all over the place was the Roboraptor. It's similar to the Aibo and other robotic pets, but it's shaped like a dinosaur instead of a dog.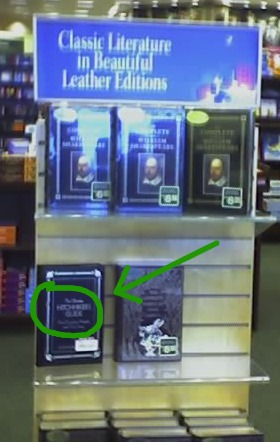 A Barnes and Noble had a display of "Classic Literature." You can barely see it in the photo, but on the middle shelf, below the Shakespeare collections, is The Ultimate Hitchhiker's Guide (to the Galaxy). Personally I think it's filed correctly, but I suspect it was set there by a customer and not someone on staff.
At least one person seemed to disagree with the whole "Peace on Earth and goodwill toward men" concept:

We crossed an intersection with all new traffic signals, and noticed that the bolts holding one of the poles in place were considerably longer than necessary: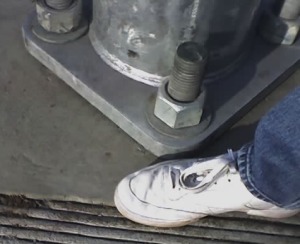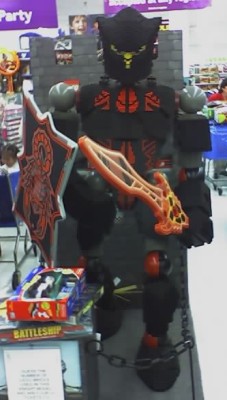 Finally, this ~5′ knight display really is made out of Legos. It's not quite up to the level of some of the displays I've seen in the past, or some of the stuff they have at Legoland, but it's impressive nonetheless.