This post on 20 things I learned at Dragon*Con reminded me of something Katie and I noticed at Comic-Con. During the screening of the musical Buffy the Vampire Slayer episode, "Once More With Feeling," it seemed like half the audience would boo Dawn, and would shout out things like, "Shut up, Dawn" when she spoke, or "No!" when she sings, "Does anybody even care?"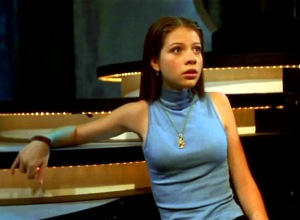 Okay, I get that you don't like the Scrappy… but shouting "Shut up!" when she's spilling the beans about Willow & Tara's fight? That sorta implies that you don't want Tara to find out that Willow has been altering her memories. That's psychological abuse by any standard. Is it better for Tara to stay in an abusive relationship than for Dawn to be the one to open her eyes?
Or how about when she mentions to Sweet that her sister is the Slayer? That sets the rest of the story in motion — in fact, it sets the rest of the season in motion. Not only does it make it possible for them to "beat the bad guy," but it sets up that Buffy/Spike relationship, and I'd bet 90% of the people booing Dawn just lurve "Spuffy" to death. (Excuse me while I gag.)
It's hate for the sake of hating the character, even when she does things you like — or things that are necessary.
Personally? I couldn't stand her through most of 5th season. I'm not sure what turned me around, but it was during the last episode, "The Gift," that I decided, y'know, she's okay. Katie, who has a younger sister, found Dawn to be the best characterization of a younger sister on television…and couldn't hate her for that reason.
Perhaps it was the realism of that sister relationship, seen through Buffy's eyes, that made so many viewers dislike her. Well, that and the Scrappy effect.
(20-Things post found via Blog@Newsarama)
See Also: Convention Photos & Write-Ups