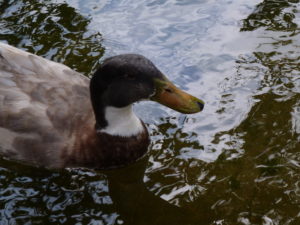 When I was around four years old, I went on a field trip to a park with a pond, and we fed the ducks. Unfortunately the duck food included peanuts. I rubbed my eyes after handling it, and they swelled shut. Fortunately this was long before my food allergies got really bad, so I only had to go into the doctor's office, not the emergency room.
It might be my oldest memory related to food allergies, though it was something my parents and I already knew about. (I've quite literally had this allergy as long as I remember.)
Last month I went with my four-year-old son's preschool class on a field trip to a park with a pond, and they fed the ducks.
It was a little unnerving!
Nothing happened this time around.
It got me thinking, though. I tried to remember as much as I could about the incident. Since I was so young, I'm not entirely sure how much is first-hand and how much is just remembering the story as it's been retold. Memory is a tricky thing, nowhere near as accurate or stable as we'd like to think.
I wrote down the fragments I do remember, then asked my parents to tell me what they remembered about it. It was interesting to see what did — and didn't — line up.
I remember a wide, curved pond, encircled by a wide sidewalk, with dense trees on the far side. The day is overcast, possibly drizzling a bit. A red box sits on a post, a vending machine for the duck food.
My parents are pretty sure it was the Woodbridge neighborhood in Irvine, which has two artificial lakes. The breadth and curvature fit. I'm not so sure about the trees, and the distance across seems too far, but it's a big enough area that some part of the lake might fit.
My dad also remembers duck food dispensers "like gumball machines" along the shore, so I didn't make those up.
OTOH, it was a summer day camp, so I'm probably wrong about the jackets and weather…but then I spent most of this week in June gloom, so who knows?
I remember looking at my face in a mirror. Not what I looked like, though I'm told I laughed like it was the most hilarious thing I'd ever seen.
The odd thing is that I picture a wall-mounted mirror on a tile background, but my dad remembers a handheld mirror.
I vaguely recall a crowd of children walking around in jackets, with maybe two or three adults, and the feeling of itchy, swollen eyes.
I didn't remember the paramedics or my dad taking me to the doctor. Though now I can dredge up a faint memory of a van and an EMT looking at me. I picture an awning connected to a building, like you'd find at the drop-off point of a hospital or entryway of a hotel, with yellowish or off-white walls and glass doors. I'm not sure that location makes sense, though.
And one mystery that had baffled me: Why were there peanuts in the duck food? Was it like trail mix? Was it some sort of pellets with peanut butter as the glue?
It turns out we ran out of food from the dispenser and started tossing in bits of another kid's peanut butter sandwich.
That's kind of weird, because this time around, when we stopped for a snack, the child who sat nearest to us had a peanut butter and jelly sandwich.
It's probably just as well that I made sure not to touch my eyes after helping feed the ducks.