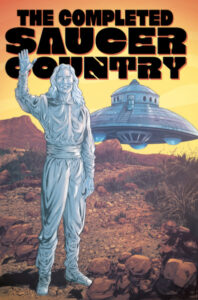 I really enjoyed the original run (Saucer Country) at Vertigo and the second run at IDW (Saucer State)…that ended on a cliffhanger, and I'm really looking forward to being able to read the conclusion!
The crowdfunding campaign launched today (perfect timing) and runs through December 8.
Saucer Country is a dark thriller that blends UFO lore and alien abduction with political intrigue, all set in the hauntingly beautiful Southwest.
The comics by Paul Cornell & Ryan Kelly follow a presidential campaign whose candidate believes she has been abducted by aliens, what that means to her and the country, and weaves through every aspect of UFO conspiracy mythology you can think of.
The first volume ran from 2012-2013, and the second volume picked up in 2017…and it was really weird to see how prescient the first run had been, as well as how the 2016 election season influenced the second part.