The MGM Grand Hotel has a lion habitat: a zoo enclosure with glass walls facing the casino floor. After all, Leo the Lion has been MGM's mascot since the early years of the last century, so the MGM Grand is all about the lions.*
We paused there as we passed through last Thursday afternoon, and overheard an announcement that they would be introducing a pair of lion cubs to the habitat the following morning. So Friday morning, after checking out of the hotel, we drove over to the MGM Grand to take a look at the lions again.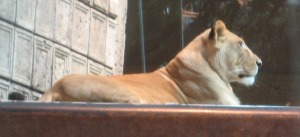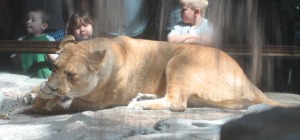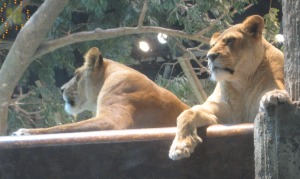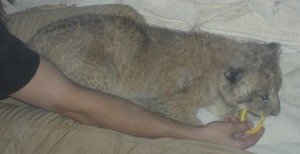 *Well, it used to be split between lions and The Wizard of Oz. It's green because it was basically the Emerald City. Sometime between 1998 and 2005 they seem to have ripped out all the Oz stuff. Katie pointed out that they really missed their chance. If they'd kept the theme, Wickedmania would have brought them an entirely new class of Oz-seeking clientele.