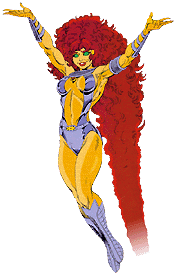 The Teen Titans' Starfire is an alien princess from the world of Tamaran. A virtual paradise, populated by a proud, but beautiful and sensual warrior race. (Think of co-ed Amazons without the attitude.) When Starfire—or, rather, Koriand'r—was a child, the world was invaded. The war went badly, and the king ultimately agreed to sell his daughter into slavery in exchange for Tamaran's freedom. (Years later she escaped her captors and ended up on Earth.)
Tamaran's story unfolded during the 1980s in The New Teen Titans and The Omega Men (which featured Kory's brother). Koriand'r returned home to help stop a civil war, but then her sister wrested the throne from their father. Komand'r (a.k.a. Blackfire) surprised everyone by becoming a much better—and fairer—ruler than anyone expected. Eventually Kory returned home to stay.
As The New Titans wound its way to a close in 1996, the story returned to Tamaran, now embroiled in a new war—one which ultimately destroyed the planet. The survivors settled on an uninhabited world to rebuild, dubbing it New Tamaran. (New Teen Titans #126-230, 1996)
Then things got nasty.
Just a few months after the final issue of The New Titans, DC published a prologue to the year's big crossover, The Final Night. The sun-eater, before setting its sights on Earth, destroyed New Tamaran utterly, with no time for an evacuation. Starfire, exiled just hours before by her suddenly-evil-again sister, was believed the only survivor.
Continue reading →