The Grand Comics Database* is a project to index the titles, dates, credits, covers, and character appearances in every comic book ever published. A sidebar on the home page shows the latest cover scan contributed. A couple of days ago, that cover scan was this: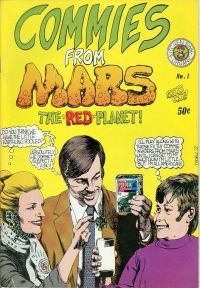 The image links to the GCD entry, which is still a stub right now, but apaprently it was printed in 1973 by Kitchen Sink Press. Here's the kid's thought balloon:
I'll play along with these filthy commie invaders from Mars until I can get to my shotgun! I'm little, but I'm all American!
On a related note, I've just made reservations to see Scott Shaw!'s show, Oddball Comics, running in LA through February (hat tip: News From ME).
*I've found it very useful for finding info for my Flash site. Unfortunately it isn't big on supporting characters, so I'm still tracking down issues myself to fill in the details. On the other hand, this way I can acutually read the stories.