I mentioned that on Saturday, we left Comic-Con for a few hours to check out the ships at the Maritime Museum of San Diego. We saw five:
The Star of India, billed as "the world's oldest active ship"
The HMS Surprise, a replica of an 18th century British ship.
The Berkeley, an 1898 steam ferry
The Medea, a 1904 yacht
A B-39 Soviet submarine.
The big attractions, of course, were the Star of India and the HMS Surprise. Naturally, the Star of India was closed when we got there.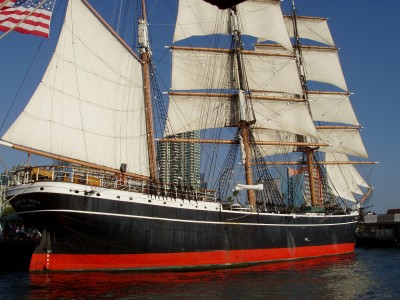 The Star of India seen from the Surprise
The Surprise was fun, though. It turns out it was built in the 1970s as a replica of an 18th century British Royal Navy vessel, the HMS Rose. It was sold to 20th Century Fox in 2001 and used to film Master and Commander: The Far Side of the World. After filming was complete, the museum bought the ship and renamed it the HMS Surprise in honor of the fictional vessel.