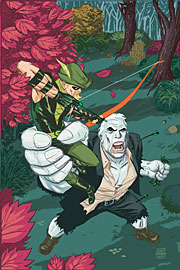 I just discovered that this week's Green Arrow #53 is actually written by William Messner-Loebs. (DC's website still says Judd Winick.)
Messner-Loebs and his wife have been in terrible financial straits for some time. An article about their plight last January led to fan mobilization complete with donation drives, benefit auctions and books, and—most importantly—a campaign to convince publishers to start hiring him again.
I've already ordered The Three Tenors: Offkey from Äardwolf Publishing and Heroes And Villains: The William Messner-Loebs Benefit Sketchbook from TwoMorrows Publishing. Neither has arrived yet, though they're supposed to have come out last month.
Now I'm off to the comic store to pick up Green Arrow.