Well, we made it to San Diego, and if you're reading this, we managed to scrounge up an Internet connection. The drive down was fairly uneventful, and we arrived too late to do much sightseeing, but we still managed to find some interesting sights.
For example, when we walked into our hotel room, we found a pizza flyer shoved under the door, and the following stand-up card on our table: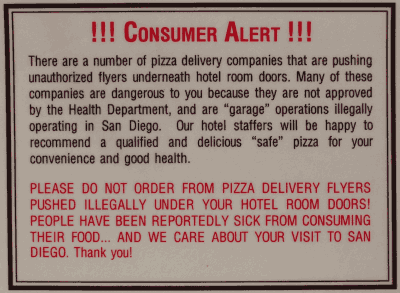 OK, so they have deals with some places, but come on! Garage operations with "unsafe" pizza?! I suppose it's possible, though.
For those Babylon 5 fans, here's an excerpt from the dining guide:

And we encountered another relative of Boba and Jango Fett at dinner:

While driving back to the hotel, we missed a turn and ended up driving through the seedier part of town (we passed no less than three nudie bars). We also spotted a restaurant calling itself "Extreme Pizza" (which might explain the card in our room) and a movie theater with an interesting cross-section of Hollywood:
Hellboy
Kill Bill
Passion of the Christ
Sadly, we didn't have a chance to capture either on fil– uh, pixels.
See Also: Convention Photos & Write-Ups