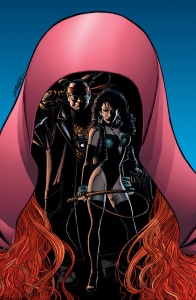 In the first week of March, Peter David's series Fallen Angel returns from hiatus with issue #19, the first part of a 2-part crossover with Sachs and Violens, a classic pair of Peter David/George Perez characters.
Fallen Angel follows the enigmatic title character through the city of Bete Noire, Louisiana. Lee—known to some as the Fallen Angel—protects the city at night, but the city isn't sure it wants her there. Duality and moral ambiguity are the series' central themes, as it becomes clear that you can't always map protagonist to heroine or antagonist to villain. Intrigue and action with a twist of film noir.
So far, DC hasn't ordered anything beyond #20, but no one can confirm whether the series has officially been cancelled. Word is that if the next two issues sell well enough, the series could continue. If not, it's toast.
We're down to the wire. If you're curious, pick up the Fallen Angel TPB (collecting issues #1–6). See if you can find—or borrow—the later issues. And if you're interested at all in seeing the series continue, pick up or pre-order Fallen Angel #19–20.