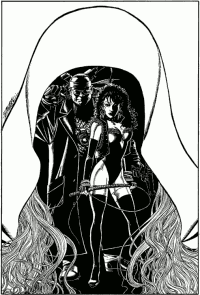 Peter David's excellent Fallen Angel comic, previously doomed by excellent critical reviews (and low sales) to an untimely death at #18, has achieved the impossible: a two-issue reprieve!
The series will skip a month after the conclusion of the current storyline in #18, and Issues #19-20 will pick up in February and March. These will feature a self-contained two-part story in which the enigmatic Angel meets a pair of classic Peter David/George Perez characters: Sachs and Violens. (And yes, that is a George Perez cover you're looking at.) Newsarama has the details.
If these issues do well enough, it just might be enough to get Fallen Angel off the chopping block. If not… well, 20 issues is a good run in today's market, where series are canceled after less than a year.
The present storyline, "Hurlyburly," began in issue #15 and runs through #18 (out next month). It promises to finally reveal the origins of the title character and the city of Bete Noir. There's a TPB of issues #1-6. No word yet on a second collection, though increased sales on the first, and on the current issues, should make it more likely.