Two bits of news on some of the less conventional "Angels" of comics.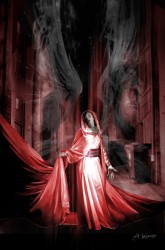 Writer Jeff Mariotte reports that Joss Whedon and Fox have approved a second Angel comic book miniseries to come out late this year, which may interest fans of the show who want to know what happened after the final episode:
While The Curse is strictly an Angel solo story with the other characters just showing up in flashback, this one will include most of the gang (those who survived NFA, anyway)—although some of them in unexpected ways. More than that I will not say. It's the only approved, official continuation of the TV series, though
Meanwhile, Peter David has confirmed that the new artist on Fallen Angel is J.K. Woodward, and posted this sample of his art style. This isn't just a cover—this is what the interior art will look like!