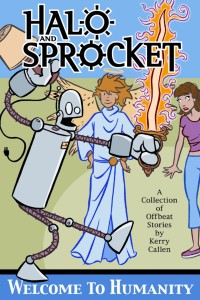 With Comic-Con coming up, I thought I'd look for news on Halo and Sprocket, a very funny comic book by Kerry Callen about a most unlikely trio of roommates: a human, a robot, and an angel. It ran for just four issues and a collection with a few extra strips back in 2003(?).
Well, there's no word on new issues, but the website now features four comic strips that appeared in the Kansas City Star last November and a four-page story from SLG's Free Comic Book Day offering.
They're definitely worth the read!
Update (7/20): My copy of the TPB arrived on Monday, and the four-page "Aw Heck" is included. The other four strips are new, though.