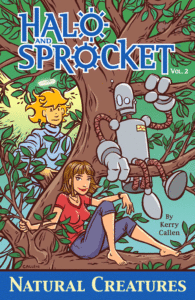 I just discovered that cartoonist Kerry Callen is working on a new volume of Halo and Sprocket to be released next year!
The book ran for just 4 issues about 5 years ago, plus a few more short stories that appeared elsewhere. It's about a trio of unlikely roommates: the human Katie, the angel Halo, and the robot Sprocket. More precisely, it's about the different ways they each look at the world. Sprocket is intensely logical, Halo brings a spiritual perspective, and Katie's humanity manages to perplex both of them no end. Each story is stand-alone, suitable for kids or adults, and a wonderful mix of insightful and drop-down funny.
The website has several stories online. [Update: It's gone, but Callen posted a preview on his blog.] Comics Worth Reading has a review of the first collection, Halo and Sprocket: Welcome to Humanity, which I highly recommend.
I was really disappointed when the series just stopped a few years ago, and I'm very glad to see that there's going to be more.