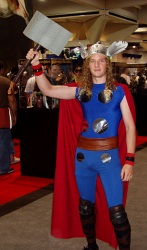 I spent more time walking around outside today, so I did get to fry a bit. (Not too much, fortunately.) Oddly enough, one of the first hall costumes I saw on Friday was Thor.
Caught the Stardust preview. It looks very promising. Neil Gaiman and Charles Vess were there, of course, plus screenwriter Jane Goldman and one of the producers. The director wasn't there, because he was on set, filming, but they showed a few clips of "very raw" footage which was actually quite good. (And yes, they do want Tori Amos as the tree, if they manage to film the scene.)
The secret to visiting Ghirardelli's seems to be to go at off-peak hours. We dropped in mid-afternoon, after the Stardust panel, and there were only about three people in line in front of us. Usually we go after dinner, when the main floor and panels are closed, and about half the con attendees are filling up the Gaslamp District, and they all seem to want chocolate ice cream. Of course, it being Friday may have something to do with it as well, though it was definitely more crowded than yesterday.
I was walking past the Keenspot booth, and noticed a drawing of Kestrel from Queen of Wands. Sure enough, Aeire was there. I told her I was a fan of the comic, and asked her whether she had any new projects in the works. She said she had two, one of which is a QoW sequel with Angela, that she's working on between real life and work. (She wouldn't say anything about the other one.)
Power of the Dark Crystal is way too early to get any sense of how it's shaping up, but the people involved seem to be really into it. And they've got Brian Froud, who did the designs for the original. (The director and the lead effects guy both said one of the first things they asked when approached for the film was, "Is Brian Froud doing it?")
We met up with our friend Wayne after the Dark Crystal panel, and went out to dinner at Masala, a new Indian restaurant on 5th Street. It appears to have replaced Octopus Garden, since it's next to Rockin' Baja Lobster, but looking at that photo, I'm not 100% certain it's the same building. Anyway, great food once again.
See Also: Convention Photos & Write-Ups