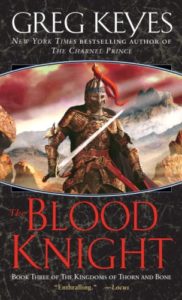 Sorry I haven't posted much here lately. The main reason is that I've been re-reading Greg Keyes' Kingdoms of Thorn and Bone series before picking up The Blood Knight. (I've also been spending time at the Comic Bloc Forums discussing the Flash relaunch.)
Re-reading The Briar King and The Charnel Prince both followed the same pattern: I read half of the book over the course of the week, then finished it on the weekend. I started the new book, The Blood Knight on Saturday morning and basically spent the weekend on the couch reading. About ¾ of the way in I realized acutely that, no matter how fast I read it, there would still be one book left when I finished.
It's funny, when I first read The Briar King I didn't like it much. I think mainly I was expecting something less steeped in medieval Europe (based on The Waterborn and The Blackgod). I picked up The Charnel Prince anyway, and liked it much better, and quite enjoyed The Briar King when I reread it.
One thing that's unusual about this series is that there's no Merlin figure. No Gandalf to show up in the first few chapters and explain what the Ring is, who wants it, and what has to be done with it. No Moiraine to explain who the Forsaken are, and what it means to be the Dragon Reborn. All the characters are pretty much figuring things out as they go. And they make mistakes—pretty nasty ones in some cases.
I've mentioned elsewhere that Greg Keyes and Neil Gaiman are the only authors whose work I will buy in hardcover, sight unseen. Looking at Keyes' website, I realized that I actually own a copy of every book he's published. There aren't too many authors I can say that about.
Only 1½ years until The Born Queen…