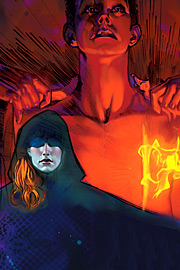 All right! DC has announced that they will be releasing a second collection of Peter David and David Lopez' Fallen Angel!
The creator-owned series lasted for 20 issues at DC before low sales finally did it in. After the cancellation, IDW approached Peter David and offered the series a new home at their company. With new artist J.K. Woodward, it's gone on to sell quite well at IDW.
Previously, DC had only reprinted issues #1-6 in TPB form as Fallen Angel vol.1. Interestingly, they re-issued it last month to coincide with the first collection from IDW, Fallen Angel: To Serve in Heaven.
Presumably one or both books sold well enough that DC has decided it's worth reprinting the rest of the series. According to DC's website, volume two will go on sale in January, and will collect issues #7-12. That includes the 5-part "Down to Earth," introducing Black Mariah, and the flashback of Lee and Juris' first meeting in New Orleans.