The Opera Web Browser is in the news today. First, they've just released version 9.20. In addition to the usual security, stability, and compatibility fixes, they're promoting a new feature called Speed Dial, to make it easier to reach your most-frequently-visited websites.
Meanwhile, a recent survey by NetApplications and Surveyware found that while Firefox is widely considered the best browser, Opera's users are more satisfied than users of any other browser. NetApplications' current marketshare shows 79% IE, 15% Firefox, 4.5% Safari and 0.8% Opera for March 2007. (via OperaWatch)
While Opera is an excellent browser, this high level of satisfaction may be in part because of the size of its userbase. Often, when something is only followed by a small fraction of the potential audience, it's mainly the hard-core fans. The only way to grow past that size is to bring in the casual users, who are less invested in it. Only time (and increased marketshare) will tell.
Webuser decided to lead with the Opera findings, which is great news for what they call "one of the internet's best-kept secrets." But they made an odd choice on the image to run with the article: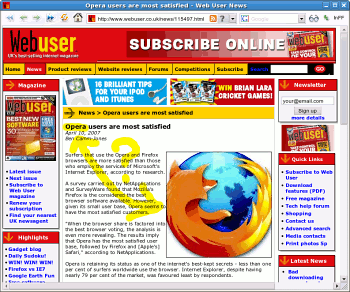 Maybe they figured the Firefox logo was more recognizable, and would get more people to stop and read?