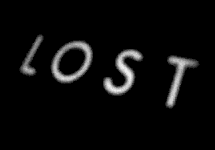 Here's a surprise: Lost has been renewed for a three-season deal… but each season is only 16 episodes long. The writers are glad that they have an endpoint, because now they know how long they have to tell the rest of the story they have in mind. (Call me credulous, but I'm inclined to believe that they do have at least some of their plans worked out ahead of time.)
Though I have to say, I hope they've checked their contract for loopholes. Farscape thought they had a two-season deal, so they took their characters and story to some really dark places in Season 4, figuring they had another year to dig them out. Instead they got canceled, and it took a fan campaign and the sale of the Jim Henson company to get even a four-hour miniseries to wrap things up.
As for the structure, this is actually probably better than two 24-episode seasons. It makes it easier to show an entire season through without interruptions. This season's schedule, with just 6 episodes at the beginning followed by months of reruns, was terrible. Of course, once they came back from hiatus, it was much better than the sporadic episodes they showed in Season 2.
Arc vs. Scheduling
This brings up a problem with trying to run a TV series with an arc to it: Scheduling can seriously mess it up.
Babylon 5 suffered from PTEN's decision to hold the last four episodes of each season until fall, followed immediately by the following season. It undermined the season-ending cliffhangers, and broke the narrative in the middle. Eventually they started anticipating it: JMS would write a mini-cliffhanger five episodes before the end of the season, and in one case even wrote a recap into the script for episode 19.
Veronica Mars and Heroes have done a good job this year of breaking the season into mini-arcs that match the schedule. Veronica Mars had a 9-part mystery, followed by a 6-part mystery, followed by a series of one-shots at the end of the season, and each arc was shown without interruption.
Heroes told the initial "Save the Cheerleader, Save the World" storyline, followed it up with some backstory, and finished the first run with a teaser for the main arc for the rest of the season. (Heroeswiki breaks it down further, by tagline.) The second arc deepened the plot, and brought everything to a high point: the revelation of Linderman's and Bennett's agendas, plus cliffhangers in Hiro's and Peter's journeys. Now we're in the home stretch. As the tagline says, "It's time to save the world."
That seems to be the way to go: If you don't have the clout to change the schedule (like 24), find some way to work within it. Plowing straight through without regard to when the episodes are going to be shown, like Lost did with Season 2, is just going to frustrate your audience.
(Thanks to aeryncrichton for the news!)