Update July 2009: I've got a new list of Comic-Con Tips over at Speed Force, and I'm posting new ones each day to @SpeedForceOrg on Twitter.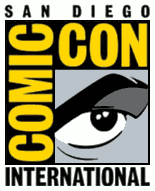 So, you're thinking about going to Comic Con International this year, or you've already got your tickets, but you're a bit apprehensive about some of the stories you've heard, and you're not sure where to start with a convention this size.
If so, this post's for you.
We've previously posted 11 Suggestions for Comic-Con. Some highlights: Go more than one day if you can, and do the main floor on some day other than Saturday. Don't forget your camera, with lots of film/memory and a spare battery. Get a trolley pass so you won't have to drive around downtown. Plan ahead for dinner: make reservations early.
Comic Coverage is about halfway through A Newbie's Guide to Surviving San Diego, which is shaping up well.
Also, if you're there for 3 or 4 days, get out a bit. You're in a major city. Take an afternoon (or even a whole day—Saturday is usually packed) off to explore Old Town San Diego or the Gaslamp District. Tour the historical ships at the Maritime Muesum. Go to the beach. Visit Sea World or the zoo. See a play, like Avenue Q or the Too Much Coffee Man opera. If you're wearing a costume, wear it to dinner at a nice restaurant. 🙂
One more thing: if you haven't already ordered your tickets for the 2007 con, buy them now. For the first time in the con's history, they've sold out of 4-day memberships. So head over there to the con website and sign up! Update (July 23): The Beat is reporting that Saturday has sold out as well. Thursday, Friday and Sunday are still available, but who knows for how long?
See Also: Convention Photos & Write-Ups