Today I went with a group from work to ride the Great Park Balloon, a.k.a. that big orange thing that's been floating over Irvine for the last month.
After about a decade of wrangling, the city of Irvine has started converting the former El Toro Marine Base into, well, a park. It looks like it's going to take them another decade to actually build the thing, but one of their first attractions is a helium balloon on a tether. Depending on wind conditions, they send it up anywhere from 250 to 400 feet, and visitors can get a 360° view of central Orange County and the park under construction.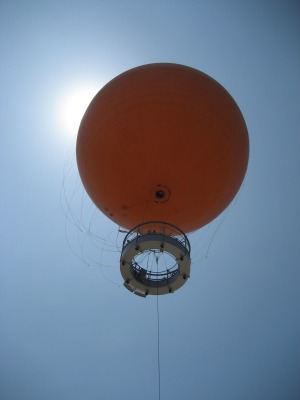 Unfortunately, conditions weren't ideal today. It was hazy, so visibility was only about 10 miles or so, and it was windy. In fact, when we arrived, they'd just tied down the balloon. The guy who organized the trip called back to the office to cancel, but those of us who were already there figured we might as well at least walk around and take a look.
As it turned out, they did start sending the balloon up again, though they limited it to 10 people per ride. So those of us who stayed ended up waiting about an hour, but we made it up.


Looking north toward the Tustin Hills


Looking south. The Irvine Spectrum shopping center is just to the left of the taller buildings.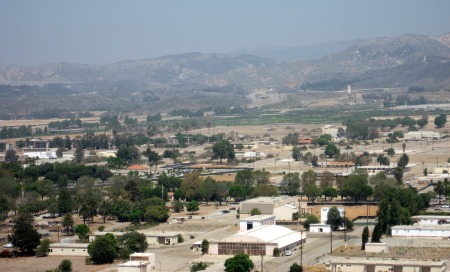 Looking east toward the foothills of the Santa Ana Mountains. Note the hangars and other former MCAS El Toro buildings in the foreground.
I managed okay up until the point where I decided (foolishly) to look down through the center of the gondola. (It's shaped like a ring, as you can see from the first photo.) The landing was a bit bumpy, and we suspected that they were probably going to shut things down a few groups after we left.
As nerve-wracking as it was after a few minutes, I'd love to go again on a clear day like this one (second photo) back in February, especially if the wind was low enough that they were willing to send the balloon up to 400 feet.