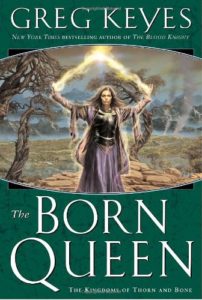 Well, my copy of The Born Queen has arrived via UPS, and I'm nowhere near finished re-reading the first three books of Greg Keyes' The Kingdoms of Thorn and Bone. I'd hoped to start at the beginning of March, but I was in the middle of the Trade Pact books and wanted to finish that trilogy. Then I figured I could read one book each week like last time and be ready at the point that book 4 arrived…and I promptly got swamped with stuff to do at both work and home, so I found myself reading mainly at lunch (and half the time I ended up eating at my desk instead) and in 20-minute chunks. Now I've got the concluding novel, but I only just finished book 1 last night, and I've gotten only a handful of chapters into book 2.
I've enjoyed re-reading them, though, and while I remembered The Briar King quite well, it's clear I've forgotten enough of books 2 and 3 that it will be well-worth having them fresh in my mind.
Now that I've got the final volume here, I think I'll look for more of those 20-minute chunks of time.