Saturday night we met up with my parents after the con for dinner. On the way to the restaurant, Chopahn — very good Afghan food, another one we'd definitely recommend — a mob of people made up as zombies came shambling up the street. We decided to hang back and wait for them to pass.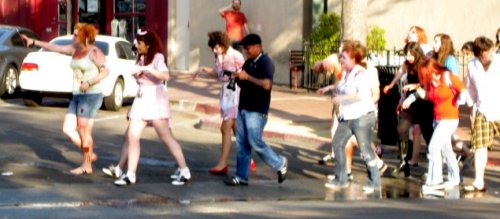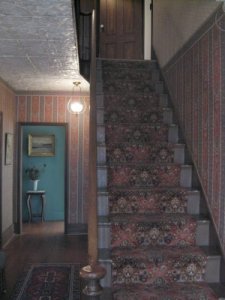 Sunday morning we got up early so we could check out of the hotel and move the car. (We left most of our luggage stored at the hotel, but they wanted all the cars out of their valet lot by noon to make room for a new round of guests.) I was amazed that we managed to get a space in a lot literally right across the train tracks from the convention center. Of course, it was around 7:00 AM, and the con didn't open until 9:30. Neither of us needed to get in immediately today, and standing in line for 2½ hours didn't seem appealing, so we tried to find something else to do.
We went back to Cafe 222 for breakfast (it seems appropriate that we did it twice), then wandered the Gaslamp district a bit — which is a little creepy at that hour, when very little is open aside from coffee places and restaurants that serve breakfast, and few people are out and about aside from people working at deliveries, taking out trash, etc. and homeless people. Once the William Heath Davis House opened, we went into the museum and took a self-guided tour.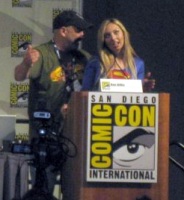 Back to the convention, we both spent the morning combing the floor. I focused on the artists' area, and ended up getting another sketch, this one of Iris West II by Freddie Williams II. Eventually I made my way to the second DC Nation panel, dashed off a blog post, and discovered that my writeup of the Comic Book Tattoo panel and signing had hit Undented and at least half a dozen other blogs and forums. The 24 hours from 5pm Saturday to 5pm Sunday (midnight to midnight in UTC) had the highest traffic this blog has seen since I installed WP-Stats, something like a year and a half ago.
Katie hit the Cartoon Voice acting panel, during which room staff moved her purse without telling her. She stood up at the end of the panel and it was gone. We spent the next hour and a half talking to event staff (run by a different organization, so they didn't actually talk to each other), filing a missing property report, reporting her credit card lost, and looking for the purse itself, until I went back into the room and checked with the tech table — and there it was.
We had just enough time to make it to the sing-along screening of the Buffy the Vampire Slayer musical episode, "Once More With Feeling." It was different from last year, since it was a much bigger room and the sound was turned up too high to really hear the audience sing, but still a lot of fun.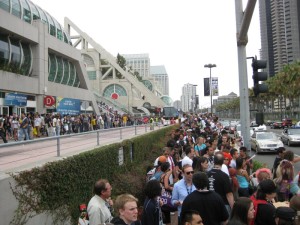 Afterward, we wrapped up the weekend with ice cream at the Ghirardelli shop. Then we picked up the car and the luggage, and started the long drive home.
See Also: Convention Photos & Write-Ups