First morning at Comic Con, we went to breakfast at Cafe 222. Harvey Dent would love this place — it's 222 Island Ave., and it's on the corner of Second Street. They have dishes like the Two Plus Two and the Two Plus Two +2. By the time we left, the line to get in was stretching at least 30 people. Great food, definitely recommended.
Arrived around 9:00 AM, about a half hour before the doors opened. I wanted to go straight for the Image booth for the tickets to the Tori Amos signing; Katie wanted to go straight for the Sci-Fi booth for the Big Frakkin Bags — and the lines to get in started at either end of the convention center. So each of us picked a different line, and waited for the doors to open.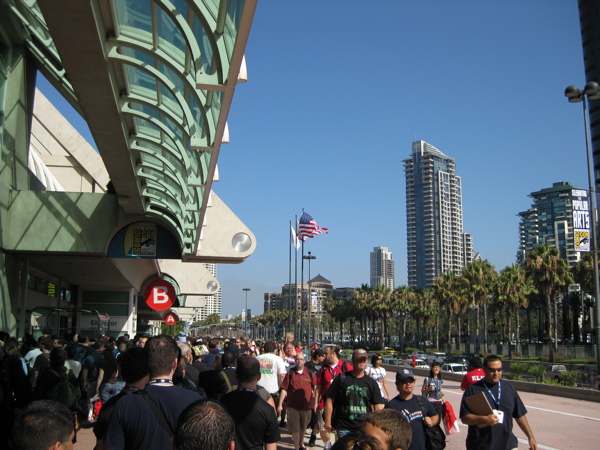 Just after 9:30 a huge cheer went up from the front of the line over by A and B. They opened the doors all the way along, so I went in the first one that opened, and made a beeline for the Image booth… where I stood in line for an hour, talking with the people in front of me and behind me in line.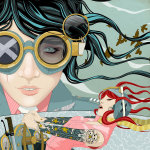 The missing books turned out to be on a truck that jackknifed on the freeway, if I heard correctly on a truck stuck in a massive traffic jam on the freeway. They're hoping to get them in tomorrow or Saturday, in time for the signing itself. For now, they're selling prints and offering the book for the price difference, at least for people who arrived in time for the signing "tickets." I managed to get the 46th slot this morning, out of 75: I'm in for the signing!
After that I went back to Colleen Doran's table to get Orbiter and A Distant Soil signed, and kicked myself for not bringing The Book of Lost Souls. JMS was standing there talking with her. I waited until he left and said something to that effect, and she said he'd probably be back at some point. But I got the two books signed, and she sketched a space shuttle on the inside cover flap for Orbiter. (Then I noticed a small stack of the Lost Souls trade, and realized I probably could've bought a copy right there and had both of them sign it. Ah, well!)
After that I wandered over to the small press area, and found myself in the webcomics neighborhood. I picked up Girl Genius vol.7, got it signed by both Phil and Kaja Foglio, and got Kaja to sign volumes 1 and 2. (They keep coming out right before Comic-Con, so I've ended up getting all of them signed… by Phil Foglio. This was the first time I caught them both at the booth while I actually had the books!) While I was paying for the book, Randy Milholland of Something Positive came over and handed the Foglios a copy of the Super Stupor comic book, then left. I'll have to locate his booth at some point today.
After that it was up to Sails so I could drop some flyers for Speed Force off at the freebie table, where I caught up with Katie again. We wandered a bit, made reservations for dinner, then I headed back to the hotel (such a novel idea!) to drop stuff off. And decided to blog.
General sense: about the same level of crowd as last night. More costumes. Saw lots of Dark Knight-style Jokers, not all of them in purple suits — including one woman dressed as a Nurse Joker. As I waited to cross the street from the convention center, someone actually asked me if I was selling my ticket. 3 hours into a 4-day show? I don't think so!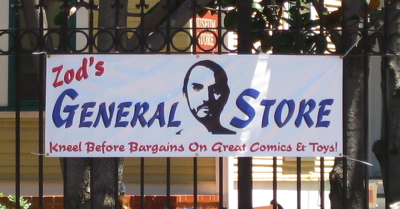 Now to grab some food and head back to the con!
See Also: Convention Photos & Write-Ups