While driving toward the sun a little after 1:00 this afternoon, I noticed a faint reddish, slightly upturned patch in the sky ahead of me, and realized it was probably the bottom edge of a 22° sun halo. I was surprised, since the cloud cover looked too heavy for it, but it was there. At the next intersection, I looked out the side window to see if I could catch anything above the sun, and there was a clear arc running left of the sun, from a little below sun level to as high as I could see.
We stopped the car, found a tree to block the sun, and both looked. There was so much glare it was easier to see with sunglasses on, so I lent mine to Katie so she could catch it. Finally I grabbed the camera and took a few pictures, most of them using a gate post instead of the tree.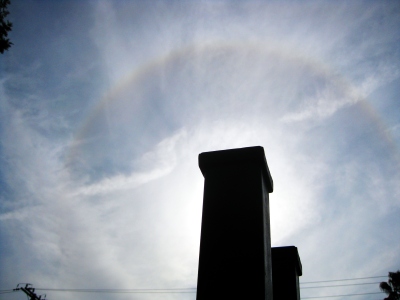 We ran some more errands, and I caught up with her at the grocery store. On my way from the car, I looked up and saw a perfect bright sundog to the right of the sun, much brighter than the clouds around it and showing the full red-to-blue spectrum. I should have gone back to the car for the better camera, but I used my phone camera instead, and got this shot.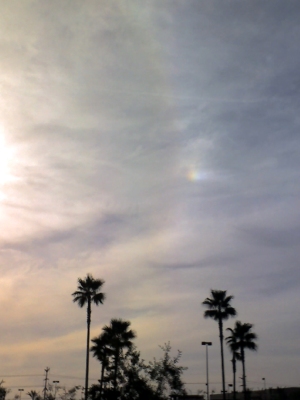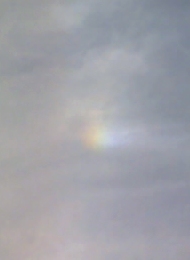 I got to the edge of the lot just as Katie was leaving, and immediately said something like, "Look! Right above that palm tree!" Then I took off my sunglasses, realized that it was completely washed out without them (though it seems to have come out all right on my cheesy phone camera), and handed them over again. It continued to be visible, though less well-defined (it was a lot sharper than this photo shows) for at least half an hour.
A circle around the sun, and a bright rainbow-colored spot in the sky. I wonder how many people walking around never even noticed.