Actress Gigi Edgley, probably best known to American audiences as Chiana on Farscape, has another talent: fire twirling. She's been performing at the weekly Huntington Beach street fair with (I think) her boyfriend, and plugged the show at the latest Farscape convention in Burbank last month. My parents, also Scapers, set up a trip with their fan meetup group and invited the two of us along.
Last night we carpooled down to Huntington Beach, arriving around 7:00. The fair runs Tuesday evenings from 5-9pm, and they block off several blocks of Main street near the pier for vendors, a farmer's market, and performers. We didn't see anyone else from the group where we were supposed to meet, but we did see someone carrying flaming torches (and someone else carrying what appeared to be a giant unicycle) on the opposite corner of the intersection.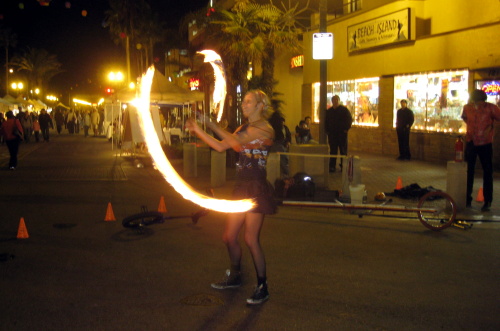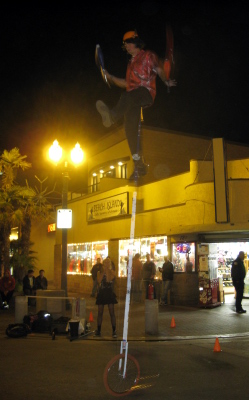 Gigi started with a "warm-up" twirling a long pole with flames at either end, then Jamie came in juggling flaming torches. There was a tongue-in-cheek magic trick in which she made him "disappear." Somewhere along the line he did some tricks on a normal-sized unicycle (including jumping over a kid's legs with it) — while juggling. Then Gigi started swinging around chains with torches on the ends. The whole show concluded with Jamie juggling atop a twelve-foot-high unicycle.
After the show, Gigi recognized my dad's Farscape hat, and came over to talk for a bit. (My parents have been to a lot of Farscape conventions, and my mom tends to go for the autograph signings and meet-the-actors events.) At this point we did run into two other people from the meetup group.
Afterward we (me & Katie, my parents, and the others from the fan group) went to dinner at Fred's, which was…slow. We were in line by 8:00 at the latest, and didn't get out until almost 10:30.