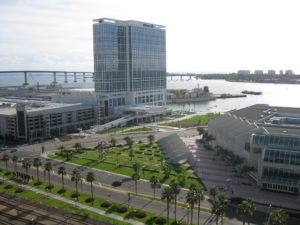 Planning to go to Comic-Con International, but couldn't get a hotel room during the reservation lottery? There's no magic bullet or secret code, but here are some things you can do to find a place to stay during the con:
ADDED: Call customer service if you placed a request but haven't heard back from them. There may have been a problem with the email (at their end, at your ISP, or anywhere in between), or there may have been an issue with the reservation that prevented them from processing it or sending the confirmation. But do it soon, so you don't miss the deadline to secure it with a deposit.
Some rooms may open up when the deposit deadline passes. Maybe. This is probably only an option if you submitted a reservation request but didn't get a room, and it assumes that (a) not everyone will manage to make a deposit in time and (b) Travel Planners will move on to the wait list with the rooms that free up. I wouldn't rely on this one.
Book directly, but be prepared to spend more. And be prepared to try a lot of hotels before you find one with available rooms, or else go through a travel site like Expedia, Travelocity, Priceline or Hotwire.
Look into short-term condo rentals. Hotels aren't the only way to rent a room. You could make your trip into a week-long vacation!
Find roommates to share the cost of that directly-booked room. Or find roommates who already have a room. A lot of the downtown hotels actually have suites, so you might even have some privacy. (One thing to watch out for, though: hotels will often charge more for extra people.) If you don't personally know anyone to share a room with, try asking in your online communities.
Stay with friends or relatives in the area. Obviously not an option for everyone, but again, you can check with online friends.
Stay farther out and commute. If all you need is a place to sleep and shower, you don't have to stay downtown. Mission Valley and Old Town have trolley service straight to the con, and you can get a 4-day trolley pass for $15.
Try again after cancellation deadlines hit. Some rooms will open up after the last day for a full refund, and more open up after the last day for a partial refund. Check the convention website for this year's dates and how to get in for the resale.
Good luck!
Once you've got your lodging situation settled, check out the rest of my Tips for Comic-Con.
See Also: Convention Photos & Write-Ups