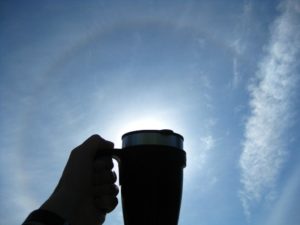 The first year we stayed in town for Comic-Con, we walked past an It's a Grind coffee shop every morning on the way to the Little Italy trolley stop. Since then, we've always tried to fit in at least one visit to either that shop or the one Downtown across the street from Ralphs. (Sure, they've opened a store near home since then, but it's sort of a tradition.)
I never quite made it this year, though I came close on Saturday before lunch.
I ended up walking by a coffee stand set up outside Lion Coffee. Two years ago, the site had been a Starbucks, before the chain started mass-closing their stores. (Now they're only on every other corner.) Last year, Lion was in the process of converting this location, but hadn't actually opened yet. Shrewdly, they had set up a table outside, selling coffee from urns and drinks from a cooler.
This year, they were open, but had set up a table around the corner to catch people walking by. It worked. They didn't have any iced coffee outside, but the clerk handed me a dollar-off coupon for asking, and I ended up getting a really good iced mocha inside!
See Also: Convention Photos & Write-Ups