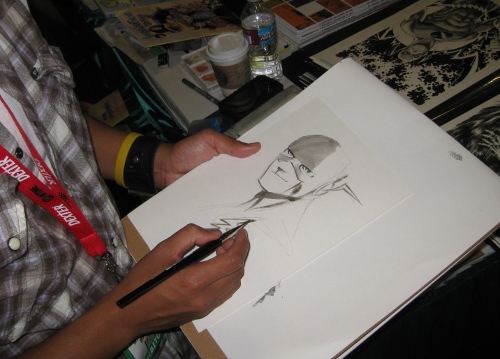 Sketches and Signings
Tongues of Serpents (latest Temeraire novel) signed by Naomi Novik with a sketch of Iskierka
Girl Genius volumes 8 and 9, and the newly-colorized volume 1, signed by Kaja and Phil Foglio.
Scott Pilgrim's Finest Hour signed by Bryan Lee O'Malley.
The Flash #1-3 signed by Francis Manapul.
Lady Mechanika mini-poster signed by Joe Benitez.
Stuff
Scott Pilgrim vs. the World T-shirt
Leverage: Mastermind T-shirt
No Ordinary Family T-shirt
Harry Potter: Undesirable No.1 T-shirt
Castle water bottle
»Full index of Comic-Con posts and photos.
See Also: Convention Photos & Write-Ups