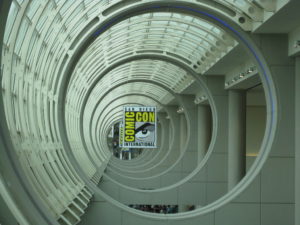 We're back from Comic-Con International! It was fun and exhausting as usual, and I think I'll be drinking water all day to rehydrate. Photos are up at Flickr.
Here's an index to all of our stories, quotes, panel write-ups and photos from the con.
Daily Reports
Convention Experience
Events
Thursday
Friday
Saturday

Leverage Q&A and quotes. (Chris Downey, Tim Hutton, Christian Kane, Beth Riesgraf, Aldis Hodge, Wil Wheaton – yes, Wil Wheaton)
No Ordinary Family. ABC showed the complete pilot episode of their new super-powered family drama, and it looks promising. Here are my thoughts on the show. (Julie Benz, Michael Chiklis)
Before the Convention
I've also got an index of Flash-related coverage at Speed Force.

See Also: Convention Photos & Write-Ups