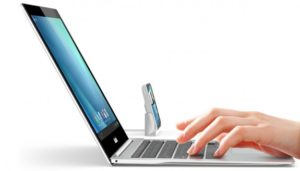 Techcitement writes: The Universal Lapdock Is Coming:
Enter the ClamBook, the first Android-compatible product by iPad keyboard-case maker ClamCase. Using a single MHL cable…the ClamBook provides an Android-laptop experience delivered by your phone.
The problem I have with this idea is that it's essentially a second device, but one that can't be used without the first one. If I'm going to have a second device to begin with, I think I'd rather have an actual tablet or ultra-light laptop.
Originally posted on Google+
Update (3/2019): I've been looking around, but I'm not sure this was ever released. All the search results I'm finding are articles based on the announcement in June 2012, and ClamCase is now a couple of iPad keyboard cases made by Incipio. The laptop dock concept is still around, but it doesn't seem to have caught on nearly as well as tablet keyboards and convertible tablet/laptop 2-in-1 devices.