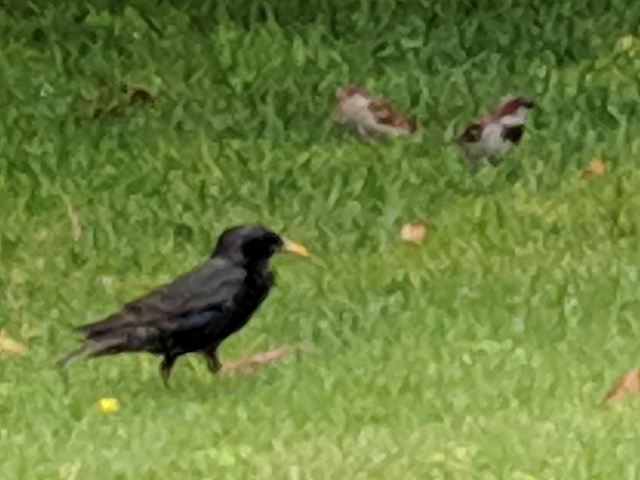 After several days not being able to see any of the birds I could hear when I went for a walk on break from work, I saw a whole bunch of them hanging out on a lawn, eating seeds or bugs or whatever it is that these particular birds eat. Of course since I'd been walking to lunch, the only camera I had with me was my phone. No optical zoom, and I couldn't get too close without spooking them. I figured what the heck, I'd give it a shot (or several) with the phone and see if I got something clear enough to post to iNaturalist.
I didn't, as you can see, but it's a great example of something I've found fascinating about digital zoom: The way it can make a photo look like it's been painted with brush strokes rather than captured with pixels.
Personally, I've never understood why digital zoom is implemented as a resize instead of just cropping to a lower resolution. Even back when the full resolution on cameras was low, I'd rather have a clear 640×480 image than a blurry 1280×960. The only reason I even enabled digital zoom on an actual camera (rather than just cropping it later on my computer) was because it made a difference to the auto-focus, exposure, etc. choices the camera would make.
I suppose it's marketing: They promised you however many megapixels, after all!