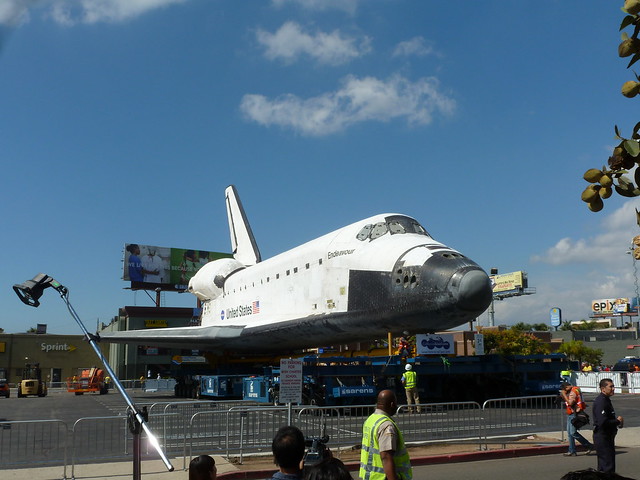 Last month I had the good fortune to watch Endeavour's landing at LAX from the office building where I work. Today I had the opportunity to see the space shuttle up close while it stopped at a parking lot in Westchester.
When I got to work this morning, the shuttle had already left the airport hangar where it had spent the last month, and was sitting in a parking lot a mile or so away. I didn't have time to go look at it, but I did have time to climb up to the top of the parking structure and look for it.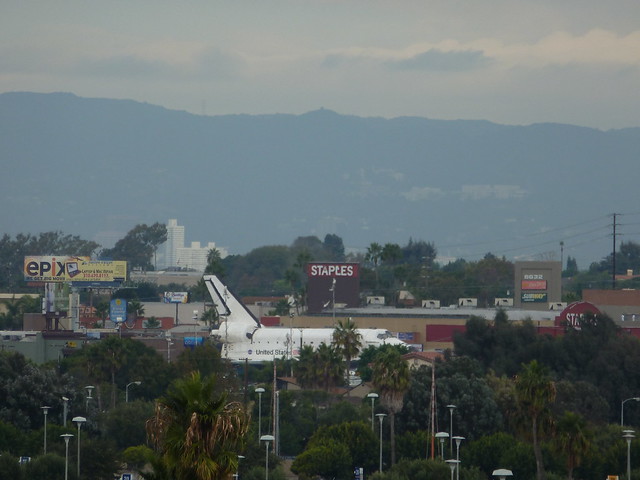 The first thing I spotted was the distinctive tail, and I walked along the top floor until I could see as much of the shuttle as possible. It looked out of place surrounded by trees and a Staples sign, though I couldn't help thinking, "Space shuttle? Yeah, we've got that." I took a few zoomed pictures with my camera, then one really grainy with my phone for the "now" impact, then headed into the office.
I did make a point of walking to the opposite side of the building when I got in, since the parking structure is only seven stories tall and we're on the eleventh floor. I got a clearer view of the shuttle, though looking through the window made it noisier and, to be honest, I actually prefer the look of the photo with more trees.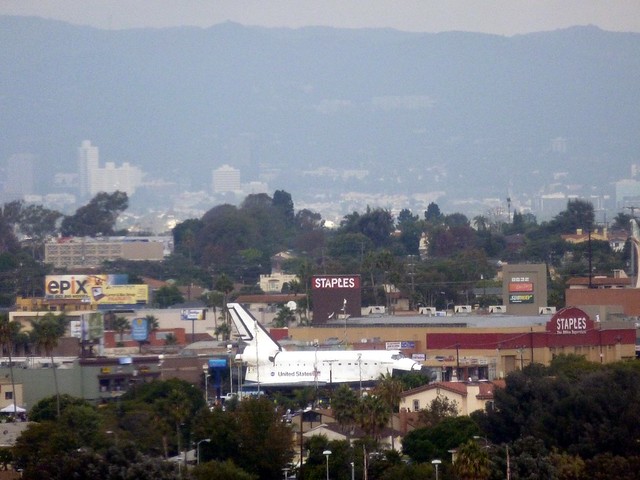 As lunchtime approached, I started considering whether to try to get a closer view. I knew the shuttle was supposed to move out around 1:30, so it was definitely possible. The question was time, and getting there. I usually walk to lunch if I'm going out by myself, but I'd never walked out that direction, so I wasn't sure how far it was or how long it would take. I knew there would be no point in driving, if only because parking would be impractical.
I finally decided it would be a shame to pass up the opportunity, and set out on what turned out to be a 25-minute walk, about the same as the walks I used to take to the Spectrum for lunch on Fridays back in Irvine.
Along the way I got roped into a conversation about "Is it still there?" and "Yes, I saw it from the top of that parking structure over there." I also saw several people watching and taking photos of airplanes landing. (This stretch of Sepulveda is great for that, especially the In-N-Out parking lot.)
Finally I made it to the corner of Sepulveda and Manchester. Traffic was open, but they had cones and crossing guards out. It wasn't crowded along the street, but there were certainly more people walking around than usual…most of them headed the same way. I walked around a corner, and there it was, almost at the far end of the parking lot.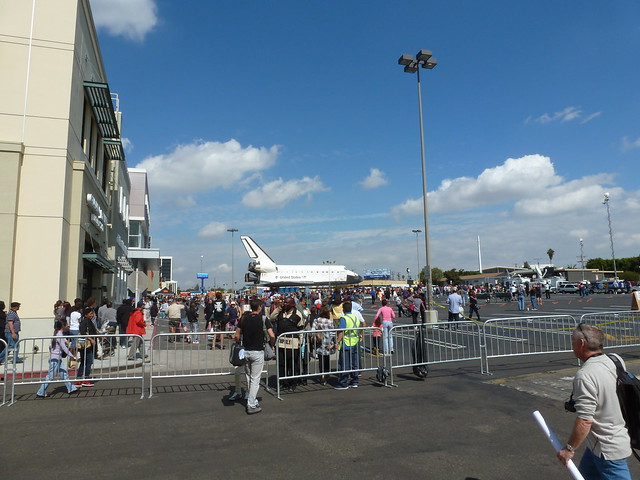 There were fences all over the parking lot to prevent cars from driving in, and I suppose to slow down foot traffic. A lot of people had come out to see the shuttle, though not too many to walk around — at least, not this far out.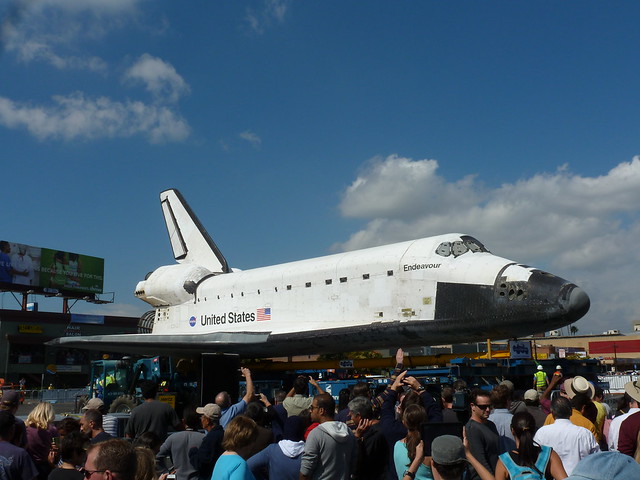 As I got closer to the shuttle, the crowds got denser as well. Everyone wanted to see, everyone wanted to take photos with their cameras or phones, photos just of the shuttle, or of themselves, or their families or friends.
I was surprised at how close they allowed us to get to the space shuttle. They only blocked off two full aisles of the parking lot, so I think I was within 40 feet of the shuttle when I got right up to the fence. The flatbed trucks carrying supplies for the transports were basically close enough to touch if I'd wanted to.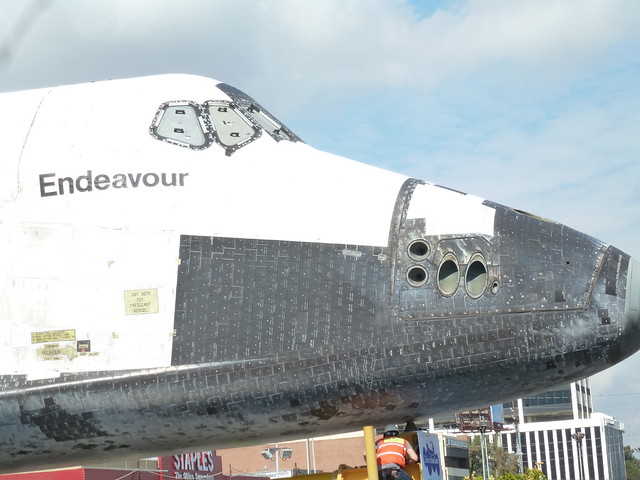 I'd never seen a space shuttle close enough to actually see the individual tiles before. What really surprised me was being able to see that the tiles are individually labeled. I mean, I knew it, but actually seeing it was kind of a surprise.
Actually, what surprised me the most was just how rough the surface looked. I'm used to long-shots or cleaned-up photos where it just looks like it's gleaming white and black, with only the lines between tiles for texture. But up close, not all the black tiles are the same shade, and not all the white tiles are the same shade. They've clearly faded at different rates, driving home the fact that this is (or rather was) a functional vehicle, like a truck or a cargo ship, not a display model.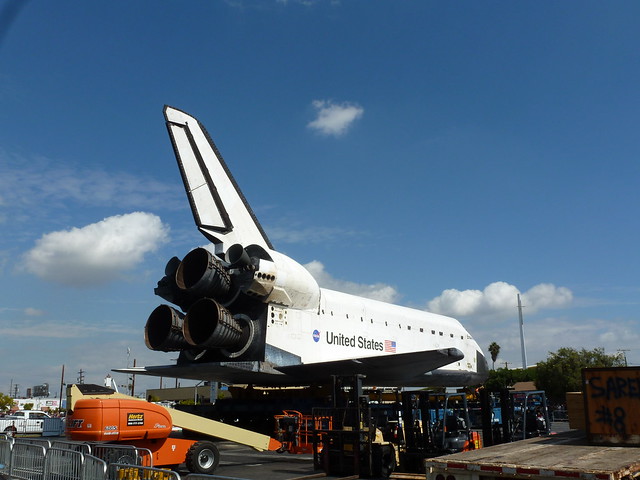 This was the best view I could get of the engines because they had blocked off those two aisles all the way across the lot. The only way to get a direct end-on view from the back was to visit one of the restaurants and stand on a patio or balcony. And let me tell you, those were packed!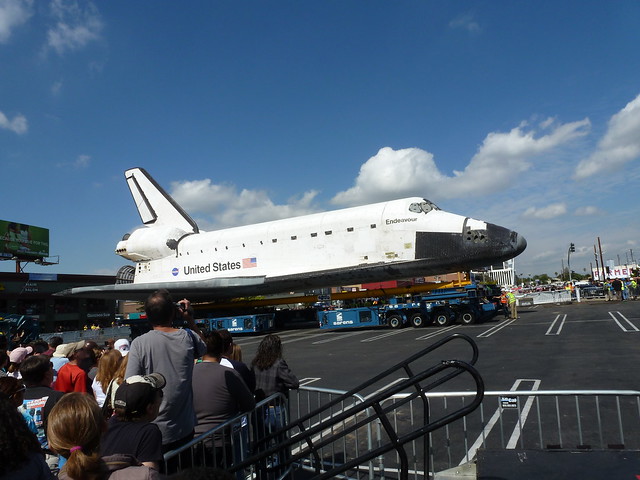 Over toward the nose, you could cross the street (which was also blocked off) to where the news vans and cameras were set up. They didn't seem to be shooting anything while I was there, but the crew and reporter were standing around talking.
To cross to the other side of the shuttle, you had to push through this narrow corridor on the far side of the street between a building and the area that had been roped off for the reporters' TV spots. That was virtually impassible, even for a veteran Comic-Con-goer, and I finally decided to just turn around and walk back to the side I'd been on.
In retrospect I do regret not continuing through that part of the crowd, if only because I didn't see the other side of the shuttle. Thinking about it, I realized that I only saw one side of the shuttle all day. In fact, I only saw one side of the shuttle during the flyover, and it was the same side!
Instead, I walked over to In-N-Out for lunch. (Big mistake: it was even more crowded than usual.) While I was waiting for my food, I posted the two photos I'd taken with my phone on Instagram (yeah, I've been playing around with it a bit) and on Facebook, joking, "I went for a walk at lunch, and this was just sitting there taking up a zillion parking spaces. And no license plate to take down. Anyone recognize this vehicle?"
'Cause really, I don't think that counts as a compact car. 😉
Check out my posts on watching Endeavour land last month and watching Discovery land in 1988, or go to my Endeavor photo set on Flickr.