While the stage hands were setting up for the Alanis Morissette concert last night, we noticed a sign on the stage that looked like this: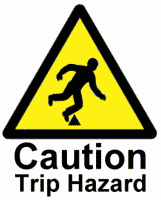 As far back as we were sitting, we couldn't read the words, (although "Caution" was obvious, and since it was next to a bundle of cables and showed an off-balance stick figure, the meaning was clear) but it stayed up during the show, and eventually the cameras caught it in the background, and we could read it.
At that point, or possibly after the end of the song, I leaned over to Katie and remarked, "You know, 'Trip Hazard' sounds like a good name for a band. Or maybe an action hero." She replied: "Can you imagine Trip from Enterprise in a superhero costume?"
And there was much laughter.