We went out to see two plays* last week: The Glass Mendacity in LA and Ordinary Days at SCR.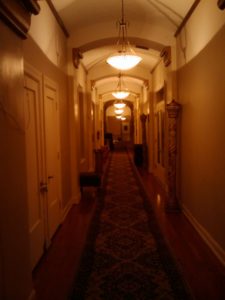 The Glass Mendacity is a spoof of Tennessee Williams, mashing together The Glass Menagerie, Cat on a Hot Tin Roof, and A Streetcar Named Desire into one messed-up family gathering, played as comedy instead of tragedy. There's Big Daddy and Big Amanda Dubois; their son Brick (played by a mannequin) and his wife Maggie the Cat; their daughter Blanche and her husband Stanley Kowalski; their youngest daughter Laura; and a gentleman caller, who appears in the final sce–okay, he shows up in scene one and never leaves. It's funny on its own, but absolutely hilarious if you know the plays being parodied.
The production we saw was at the Ark Theatre. It's a tiny theater upstairs in the historic building that houses the Hayworth Theatre. In the 1920s, even office buildings had character! The lobby is basically entry-level landing to the rear stairway, but they've managed to fit in a small bar and a couple of tables.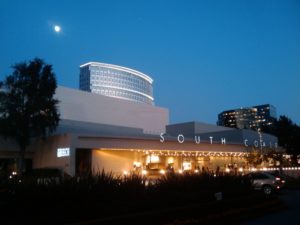 Ordinary Days is a slice-of-life musical about four people in New York City: a couple just moving in together, a grad student, and an artist. Their stories intersect, and each reaches an epiphany about his or her life over the course of the story. The music reminded me a bit of Stephen Sondheim and a bit of Stephen Schwartz. The cast was good, and the set design did a great job of suggesting various locations in an enormous city.
This was the first show I'd seen at South Coast Repertory's Julianne Argyros Stage. Somehow I managed to go a whole decade without seeing anything at SCR at all, and the other shows I've seen over the last year were all in what used to be the main stage. In my head, I still had the image of the old second stage, a box-shaped studio, up until the point that we walked in the door to see a proscenium stage and a house with a balcony and box seats. I might actually have missed this one, except we ran into one of my music theater teachers from college on the way to Xanadu last month, and he was rehearsing this show as the musical director and accompanist.
Both shows are still running. The Glass Mendacity runs through January 30, and Ordinary Days runs through January 24.
*Hooray for cheap tickets at Goldstar.