There's something wrong with this advertisement for flu vaccination services: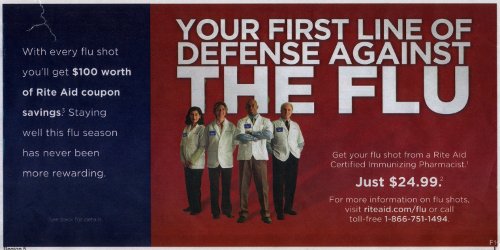 The slogan just bugs me, because they got the metaphor wrong.
Think about it: Vaccines work by training your body's immune system to recognize a particular type of germ ahead of time, so that if you get exposed to the real thing later on, you can fight it off before it actually manages to make you sick. In terms of a warfare metaphor, it's about training the troops who guard the home front so that if the enemy successfully invades past your borders, you can fight them off before they become entrenched.
The first line of defense would be something that stops them from invading in the first place. A well-defended border, in terms of ground troops. The Coast Guard in terms of sea. Radar and anti-aircraft missiles to identity and shoot down incoming enemy aircraft.
Your first line of defense against the flu? That would be your skin.
So wash your hands!
</pedantic>