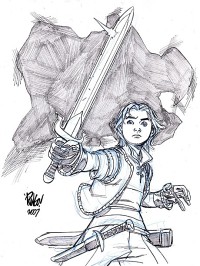 This weekend I re-read Tellos, a fantasy comic book that ran from 1999-2000. Writer Todd Dezago and artist Mike Wieringo took a 6-month hiatus to prepare the next story arc, but that arc never materialized. Just a few one-shots and an anthology mini that explored backstories and aftermath, with a few hints at the upcoming story. Though from the sketches and posts on Wieringo's blog—the latest (at left) posted just last Friday, it was clear they were working on relaunching the series, possibly this year.
So it came as a real shock when I checked my e-mail this morning and saw a post on Warren Ellis' Bad Signal saying that Mike Wieringo died yesterday at the age of 44.
A second obituary appears at Comic Book Resources. Newsarama also spoke with his friends and collaborators, collecting remembrances from Mark Waid, Todd Dezago and Karl Kesel.
The Mark Waid/Mike Wieringo run on The Flash was one of my favorites. Even though other artists drew Wally West for longer, it's "'Ringo's" take that I always associate with the character. That run got me interested in Tellos, which sits alongside Chronos and Chase as a favorite series that should have lasted longer than it did. Continue reading →