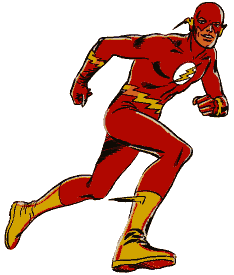 Yesterday's article about the Flash (warning: major spoilers for this week's DC Universe: Zero) in the New York Daily News brings up the hero's key role in launching the Silver Age of Comics. Superheroes had fallen out of favor in the early 1950s, and comics were exploring genres like westerns, horror, romance, etc. When DC successfully relaunched the Flash in 1956, there was an explosion of new super-hero titles.
The Daily News quotes former Flash scribe Geoff Johns as saying, "Without Barry Allen, we'd still be reading comic books about cowboys."
I don't think that's precisely true. Not to discount Barry's contribution—it's entirely possible, even likely, that super-heroes would have remained a background genre. But for one thing, we're looking at half a century of ephemeral pop culture. For another thing, let's consider: why were comics going after the western, crime and horror genres when super-heroes failed? Because that's what was popular in movies and television at the time.
I'd guess that, without the Flash revitalizing super-heroes, we would have seen more science-fiction comics in the 1960s, more police comics in the 1970s, sitcom comics in the 1980s, and so on. Comics genres would probably have followed along with trends in pop culture instead of becoming heavily focused on a single genre.
We wouldn't be reading cowboy comics today; we'd be reading reality comics.
Perhaps the presence of multiple genres would have eventually gotten rid of the "but, you know, comics are just for kids" mentality. (Not that it's worked for cartoons or video games yet, but video games are still relatively new, and cartoons have similarly been dominated by the musical fairy tale and slapstick comedy short.)
Eh, who knows? Maybe they'd be all about pirates.
Edit: The comment thread at The Beat also has some interesting speculation on comics without the Silver Age Flash.