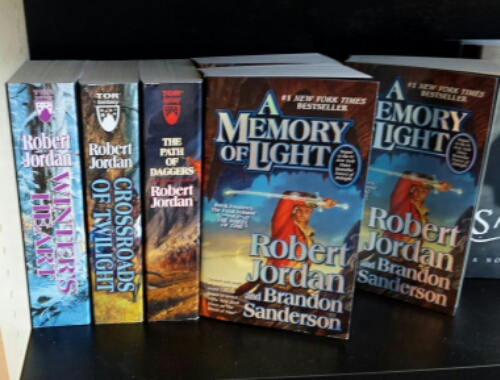 A few years back, Mysterious Galaxy, a San Diego bookstore specializing in mystery and science fiction, opened a second location in Redondo Beach. They recently decided to close the newer location and focus on the San Diego store and community events (they're heavily involved in the local book and comics convention circuits), and held a giant sale to clear out inventory.
I have to admit I'm not terribly surprised. As much as I loved the place, the store was never particularly busy when I dropped in. Although to be honest, we're part of the problem, since we only managed to visit a few times a year. Neither of us has nearly as much time to read as we used to, and we're splitting our book purchases between print and digital along somewhat arbitrary lines these days. (I did make a point of using their affiliate account at Kobo, though.)
We went to the sale over the weekend, and found it amusing that of all the Wheel of Time novels remaining on the shelf, the only ones left aside from the final installment were The Path of Daggers, Winter's Heart, and Crossroads of Twilight — a trio of books widely known for killing fans' interest in the series. (Crossroads, in particular, is referred to jokingly as "Characters Show Up.") Fortunately it picked up again with New Spring, a flashback novel focusing on a character who had vanished halfway through the series, set years before the first book. The next book in the main series, Knife of Dreams, turned out to be really good, making me wonder if Robert Jordan's side trip to the past had re-energized and re-inspired him. The fact that the story picked up again so strongly before his death — before he was even diagnosed, IIRC — gave me a lot more confidence in the concluding trilogy finished by Brandon Sanderson. If that next book had been like Crossroads, I probably would have dropped the series right there.