Katie carved this incredible anatomically-correct skull Jack-O-Lantern for Halloween today. Update: Check the comments for her writeup on how she carved it.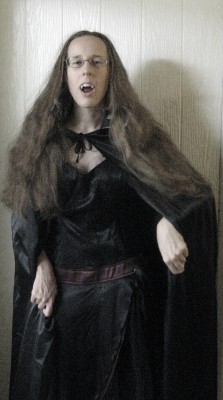 It seems to have worked as a "yes, we're handing out candy" signal. Last year we didn't get any trick-or-treaters. (We also didn't put up any decorations that year, either.) This year, they started arriving while I was taking photos of the pumpkin…and while Katie was opening the bags of candy!
She dressed up in her vampire costume, which got some great responses. One trick-or-treater asked about the fangs. She overheard another walking away from the door and wondering, "Do you think she was a real vampire?"
By 8:50 we were down to only three Starbursts left to hand out, so we brought the pumpkin inside and called it a night.
Earlier this afternoon, I ran some errands and deliberately went to the Spectrum so that I'd have a chance of spotting the Great Park Balloon in the air while it still had the Jack-O-Lantern face on. I thought this view made for a nice image of the Great Pumpkin, rising up over the trees.