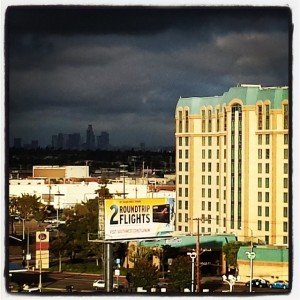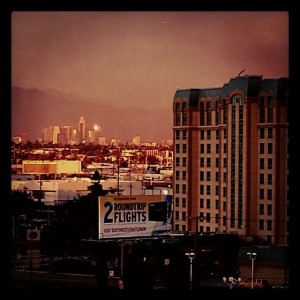 I went out for a brief walk Thursday afternoon (sometimes you just need fresh air). It had been raining, but had stopped, and the sun had broken through the clouds. Something made me go up to the top of the nearby parking structure where I could see downtown Los Angeles. It turned out to still be completely in shadow, as the gloom stretched inland. But it made for a great contrast with the sunlit hotel in the foreground.
The next day, another of intermittent rain and sun, I glanced out my office window shortly before sunset and took another short walk, this time straight to the parking structure for a better view of the mountains. The sun was sinking past open patches in the cloud layer, and I realized it was only a matter of time before it lit up the city in the distance.
Sure enough, a few minutes later, downtown Los Angeles was lit up by the sunset, and while I was at the wrong angle to see the towers turn completely orange as I did once on the train nearly three years ago, I was able to line up the same angle as the photo from the previous day…because this time the nearby hotel was the building in shadow.