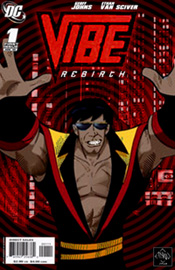 Apparently preliminary buzz is so good on Flash: Rebirth that DC has already announced the next character getting the Rebirth treatment: Vibe from the 1980s "Detroit-era" Justice League.
From the first link, Dan Didio explains:
It was really a melding of events. First of all, with Superman, Batman, Wonder Woman, Flash and Green Lantern all leaving the Justice League, Dwayne McDuffie wanted to try and bring back some of the feel of the Detroit-era League. And what character is most associated with that League? Vibe! Plus we had some very positive fan response to his appearances in Trinity. And orders for Flash: Rebirth have been phenomenal. We want to strike while the iron is hot, so I asked Ethan if he'd be interested, and he just jumped at the opportunity. Literally, he jumped. I could hear the thump on the other end of the phone.
It makes sense in a twisted sort of way.
Update: This is, of course, an April Fool's joke! Happy April 1, everyone!