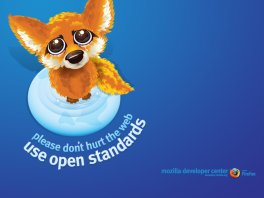 The Mozilla Developer Center has just posted some desktop wallpaper promoting open standards, (and the MDC itself) with the theme, "Please don't hurt the web. Use open standards."
Apparently the design was a big hit as a poster at SXSW.
For those who haven't seen it, the MDC is a great developer resource for web developers, describing lots of standards along with Mozilla-specific information.
(via Rhian @ SFX, who notes that the image is available for use under the terms of the Creative Commons Attribution-NonCommercial license. These wallpapers are also covered by the Mozilla Trademark Policy.)